The current Prime Minister of the United Kingdom is Rishi Sunak, who has made headlines as one of the wealthiest politicians in Westminster and also as the first leader of color. He took over from Liz Truss, who resigned just 44 days after her appointment. With a background in finance and economics, Sunak has been praised for his handling of the UK's economic recovery during the COVID-19 pandemic. Despite his wealth, he has been known to support social causes, including donating a portion of his salary to charity.
Rishi Sunak Biography: Birth, Age & Parents
Rishi Sunak, born on 12 May 1980 in Southampton, Hampshire, South East England, comes from a family with Indian heritage. His parents, Yashvir and Usha Sunak, were born in Kenya and Tanzania respectively. His father worked as a general practitioner, while his mother ran a local pharmacy as a pharmacist.
Sunak's grandparents hailed from Punjab Province, British India, and made the decision to relocate to the UK during the 1960s after residing in East Africa. Sunak holds the title of eldest among his two siblings. His brother Sanjay is a psychologist, while his sister Rakhi occupies the position of Head of Humanitarian, Peacebuilding, UN Funds and Programmes at the Foreign, Commonwealth and Development Office.
World Wrestling Championships 2023 Schedule
Rishi Sunak Biography
Birth
12 May 1980
Age
42 years
Parents
Yashvir Sunak (Father)

Usha Sunak (Mother)

Education
Winchester College

Lincoln College, Oxford

Stanford University

Wife 
Akshata Murthy
Children
Two
Occupation
Politician

Businessman

Former Investment Analyst

Net Worth
£3.1 billion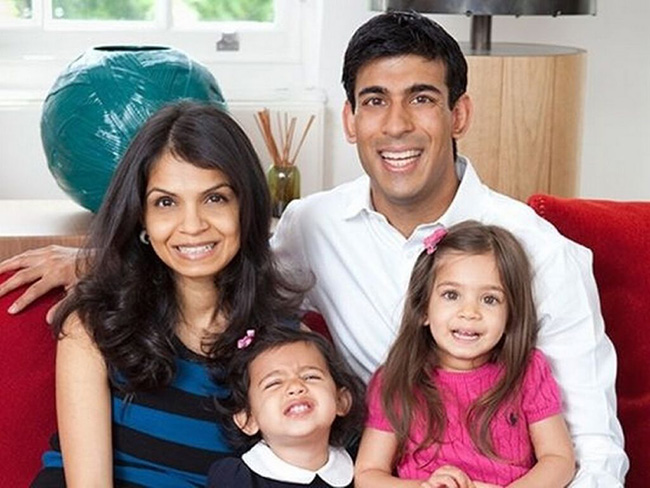 Rishi Sunak UK Politician Leadership
Rishi Sunak, a UK politician of Indian descent, gained support in his bid to become Britain's Prime Minister following Boris Johnson's resignation on July 7, 2022. Deputy Prime Minister Dominic Raab and transport minister Grant Shapps both decided to withdraw their own leadership campaigns and instead endorse Sunak.
Rishi Sunak, aged 41, held the position of Chancellor of the Exchequer from 2020 to 2022, after serving as Chief Secretary to the Treasury from 2019 to 2020. He is a member of the Conservative Party and has been an MP for Richmond (Yorks) since 2015.
Rishi Sunak Schedule
Rishi Sunak, the Prime Minister of the United Kingdom, is among the leaders representing 40 nations at the G20 Summit 2023. This summit is significant as it marks India's hosting for the first time in history. Arriving in New Delhi on September 7, Rishi Sunak has arrived ahead of the summit scheduled for September 9 and 10. Upon his arrival at the airport, he received a warm welcome from Ashwini Kumar Choubey, the Minister of State for Consumer Affairs, Food and Public Distribution, as well as the Ministry of Environment, Forest and Climate Change. Netizens have now affectionately dubbed him "India's son-in-law," expressing their excitement about his visit.
Rishi Sunak Education 
Rishi Sunak, the current Chancellor of the Exchequer in the United Kingdom, has an impressive educational background. He is an alumnus of Winchester College, Lincoln College at Oxford University, and Stanford University. Interestingly, during his summer break from university, Sunak worked as a waiter at a curry house in Southampton. This experience taught him valuable lessons about hard work, customer service, and the importance of small businesses in the economy. It also gave him a unique perspective on the hospitality industry and its challenges.
Rishi Sunak's Business Career
During his university years, he completed an internship at Conservative Campaign Headquarters. Following this, he worked as an analyst at Goldman Sachs, an investment bank, from 2001 to 2004. In September 2006, he left his position to become a partner at The Children's Investment Fund Management (TCI). He then joined another hedge fund company called Theleme Partners in 2009. Additionally, he held the role of director at Catamaran Ventures, an investment firm owned by his father-in-law and businessman N.R. Narayana Murthy.
Rishi Sunak: As a frontrunner for UK Prime Minister
On July 8, 2022, Rishi Sunak declared his candidacy in the Conservative Party Leadership Election to succeed Boris Johnson, who had resigned as the UK Prime Minister the day before. Those conservative politicians who had previously supported Boris Johnson expressed disapproval of Rishi Sunak's role in ousting the Prime Minister.
GoDaddy registered the domain readyforrishi.com on December 23, 2021. On July 6, 2022, two days after he resigned as the Chancellor, the domain ready4rishi.com was registered. The former domain now redirects to the latter.
Rishi Sunak's Political Career
In 2014, he was chosen as the Conservative candidate for Richmond (Yorks), a seat that had previously been held by William Hague. The seat has been held by the Conservative Party for over 100 years now. That year, he headed the Black and Minority Ethnic (BME) Research Unit of Policy Exchange and co-wrote a report on BME communities in the United Kingdom.
In the 2015 General Election, he was elected as an MP from Richmond (Yorks). From 2015 to 2017, he served as a member of the Environment, Food and Rural Affairs Select Committee. He supported the EU referendum in 2016. He also wrote a report for the Centre for Policy Studies supporting the establishment of free ports after Brexit, and the following year wrote a report advocating for the creation of a retail bond market for SMEs.
Rishi Sunak Early Life
He was re-elected as MP from the same seat in the 2017 General Election. He served as the Parliamentary Under-Secretary from January 2018 to July 2019. He supported PM Boris Johnson in the 2019 Conservative Party leadership election and even co-wrote an article in a British national daily to advocate for Johnson during the campaign in June 2019.
Sunak was re-elected in the 2019 General Election and was appointed Chief Secretary to the Treasury by Prime Minister Boris Johnson in July 2019 and served under Chancellor Sajid Javid. He became a member of the Privy Council on 25 July 2019. After a cabinet reshuffle in February 2020, Sunak was promoted to Chancellor of the Exchequer.
Sunak unveiled his inaugural budget on 11 March 2020 in the midst of the COVID-19 crisis. In response to the financial consequences caused by the pandemic, Sunak declared £30 billion in supplementary expenditure, with £12 billion specifically designated for alleviating the economic repercussions of COVID-19.
Rishi Sunak Life Style Now
On 17th March 2020, he made an announcement regarding emergency assistance amounting to £330 billion for businesses, along with a salary subsidy program for employees. Just three days after that, he introduced the job retention scheme, which faced strong criticism due to approximately 100,000 individuals being deemed ineligible. The scheme's duration was extended until 30th September 2021.
Sunak unveiled the £30 billion Eat Out to Help Out Scheme to support and create jobs in the hospitality industry. The government-subsidized food and soft drinks at participating cafes, pubs and restaurants at 50%, up to £10 per person. The offer was available from 3 to 31 August 2020 from Monday to Wednesday. While some consider the scheme to be a success as it subsidized £849 million in meals, others disagree. A study at the University of Warwick revealed that the scheme contributed to a rise in COVID-19 infections of between 8% and 17%.
Rishi Sunak 
During his budget announcement in March 2021, Sunak revealed that the deficit for the fiscal year 2020-2021 had reached £355 billion, marking the highest level during peacetime. As part of his measures, he proposed a rise in corporation tax from its previous rate of 19% to 25% by 2023. Additionally, he announced a five-year pause in the tax-free personal allowance and the higher rate income tax threshold.
Rishi Sunak Skills & Education
At the G7 Summit in June 2021, a tax reform agreement was signed to establish a global minimum tax on multinationals and online technology companies. In October 2021, OECD signed an accord to join the tax reform plan. In October 2021, he unveiled his third budget which included £5bn for health research and innovation and £3bn for skills education
Rishi Sunak Wife 
In August 2009, Rishi Sunak and Akshata Murthy got married. They are blessed with two daughters. Akshata is the daughter of Indian billionaire N.R. Narayana Murthy and holds the position of director at Catamaran Ventures. Additionally, she manages her own fashion label and ranks among the richest women in Britain.
Non-domiciled status of Rishi Sunak's wife and green card
Akshata Murthy, the wife of Rishi Sunak, holds non-domiciled status, granting her exemption from paying taxes on her foreign earnings while residing in the United Kingdom. To maintain this status, Murthy pays approximately £30,000, enabling her to evade an estimated £20 million worth of taxes in the UK.
Following the media uproar surrounding Rishi Sunak's bid for Prime Minister, Akshata Murthy released a statement on April 8, 2022, confirming her intention to pay UK taxes on her worldwide income. She emphasized that she hopes this decision will not become a source of contention or divert attention from her husband's aspirations.
It has been reported that Rishi Sunak retained his U.S. Permanent Resident Card, which he obtained in the 2000s, until 2021. This included a period of 18 months after he became Chancellor, during which he was obligated to file U.S. tax returns.
Who is Rishi Sunak?
Rishi Sunak scripted history when he was appointed by King Charles III as Britain's first Indian-origin Prime Minister after being elected unopposed as the new leader of the governing Conservative Party on Diwali. The 42-year-old former Chancellor of Exchequer, a devout Hindu, is the youngest British prime minister in 210 years. He is also the first Hindu Prime Minister of Indian heritage in the UK. Sunak has been a member of the Conservative Party for Richmond (Yorks) since 2015.
Life and education
Sunak was born in Southampton on May 12, 1980, to Indian parents Yashvir and Usha Sunak in East Africa. His grandparents were born in British India's Punjab province. They migrated to the UK from East Africa in the 1960s with their children.
Sunak studied at Winchester College and read Philosophy, Politics, and Economics (PPE) at Lincoln College, Oxford, in 2001. The 42-year-old also did his MBA as a Fulbright Scholar from Standford University in 2006. The Yorkshire MP married Akshata Murty, daughter of Infosys founder NR Narayan Murthy, in 2009 and has two children with her.
Rishi Sunak Biography

Height
Born:
12 May 1980 (age 43 years), Southampton General Hospital, Southampton, United Kingdom
Spouse:
Akshata Murthy (m. 2009)
Party:
Conservative Party
Parents:
Yashvir Sunak, Usha Sunak
Previous offices:
Chancellor of the Exchequer (2020–2022),

MORE
Children:
Krishna Sunak, Anoushka Sunak